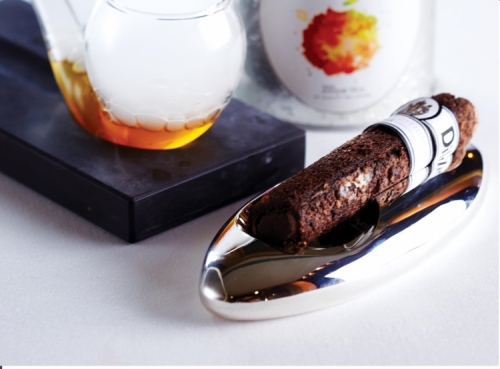 Food : Appetisers
CHOCOLATE CIGAR
Ingredients
Ingredients for Chocolate Biscuit
• 0.16kg Yolk
• 0.24kg Egg Whites
• 0.25kg Sugar
• 0.035kg Chocolate Powder
Ingredients for Chocolate Crispy
• 0.04kg Milk Chocolate
• 0.025kg Pailleté Feuillantine
• 0.031kg Praliné Hazelnut
Ingredients for Cognac Ganache
• 0.3kg Cream
• 0.025kg Butter
• 0.05kg Trimoline
• 0.3kg Chocolate 66°%
• 0.025kg Cognac
MethodChocolate Biscuit Method
Whip the yolk. Whip the egg whites and 

add the sugar. Add the yolk in the egg white 

mixture. Finish by adding the cacao powder.
Melt the chocolate at 45°C and add the praliné 

and the feuillantine.
Boil the cream with the trimoline. Put the 

chocolate in three steps. Finish by adding the 

butter. When it's cold, add the cognac.
Created by : Pierre Jean Arpurt