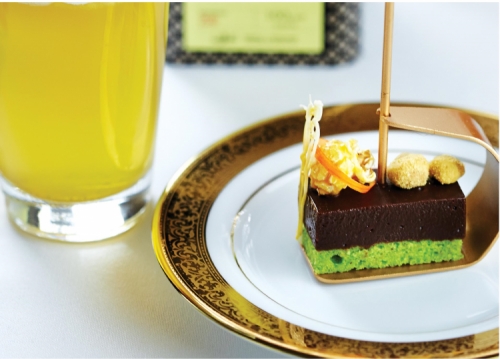 Food : Appetisers
CHOCOLATE BAR WITH SALTED CARAMEL POPCORN WITH PISTACHIO FINANCIER
Ingredients
• 9L Fresh Cream
• 2.5kg Roasted Milk Powder
• 5g Salt
• 4kg Milk Chocolate (65%)
• 800g Dark Chocolate
• 225g Popcorn
• 615g Sugar
• 165g Butter
• 100ml Water
• 15g Baking Soda
• 10g Salt
• 35g Golden Syrup
Pistachio Financier
• 200g Almond Powder
• 70g Cashew Powder
• 500g Icing Sugar
• 70g Flour
• 250g Egg Whites
• 250g Hazelnut Butter
• 05tbs Pistachio Paste
MethodThe Chocolate Bar
Reduce fresh cream into 3L. Add roasted milk

powder and cook on a slow fire. Add the cooked

mixture to chocolate, mix well & put into tray

and chill.
First pop the popcorn with a little oil. In

a separate pot add sugar, lime, water, and

Golden Syrup and boil up to 120°C. Then add

the baking soda and next the butter into the

caramel mixture.
Mix Almond powder, cashew powder, icing

sugar and flour together, and set aside. Beat

egg whites and fold into powder mixture. Heat

butter till you get a burnt aroma and fold into

above mixture. Finally, mix in the pistachio

paste. Bake in oven at 150°C for 20 minutes.
Created by : Buddika Samarasekera