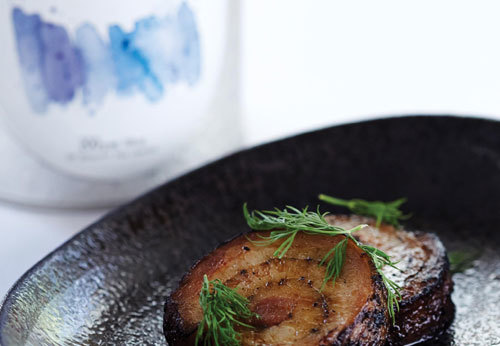 Food : Main Courses
Char Siew Iberico Pork Jowl
Ingredients
300g Iberico Pork (some fats trimmed off)
Char Siew Sauce (made with 500ml Water, 3 tbsp. aromatic Earl Grey Tea, ½ tsp. White Pepper, 3 tbsp. Dark Soya Sauce, 3 tbsp. Oyster Sauce, 3 tbsp. Honey, 3 tbsp. Hoisin Sauce, 2 pinches Of Salt and 3 tbsp. Sugar)
Method
To make the Char Siew sauce, add Earl Grey tea to 500ml water and boil to a reduction.
Then, add white pepper, dark soya sauce, oyster sauce, honey, Hoisin sauce, salt and sugar to the reduction and mix together until sugar melts.
Sous-vide Iberico pork with half-portion of the sauce for 6 hours.
Pan-sear the Iberico pork and glaze with remaining sauce to serve.
The range of Dilmah Tea used
The variety of Dilmah Tea used in the recipe
Created by : Lee Zhang An