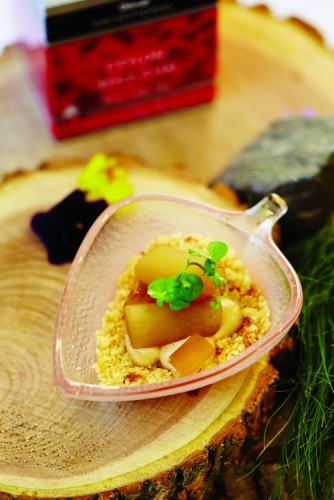 Food : Main Courses
CHAI TEA APPLE CRUMBLE, CHAI TEA JELLY, VANILLA CREAM
IngredientsChai Tea Apple Crumble
110g flour
100g almond meal
90g sugar
90g melted butter
50g chai tea infused apples (Sous vide 60C/10min)
Chai Tea Jelly
200ml Dilmah Spice Chai Tea
10g sugar
2 gelatin sheets
Chai Tea Apples
2 apples
200ml Dilmah Spice Chai Tea
Vanilla Cream
200g cream
2 tea bags Dilmah Spice Chai Tea
1 vanilla bean pod
MethodChai Tea Apple Crumble
Combine all together well and rest for 20 minutes and roll it out 1cm thick and bake it out on tray at 175C for 8-9 minutes.
Chai Tea Jelly
Combine 200ml Dilmah Spice Chai Tea for 4-5 minutes with 10g sugar and melted gelatin sheets.
Put into mold, keep in a fridge overnight.
Chai Tea Apples
Cut 2 apples into 2cm logs with the core.
Vacuum it with 200ml cold Chai Tea. Keep in fridge overnight.
Take out the apples and sprinkle some sugar on top before blow torching.
Vanilla Cream
Boil 200g cream and 2 bags of chai tea and strain it.
Put the cream back on heat and add 1 pod of vanilla bean.
Reduce until thick
The range of Dilmah Tea used
The variety of Dilmah Tea used in the recipe
Exceptional Ceylon Spice Chai
Created by : Jagdev (JD) Singh