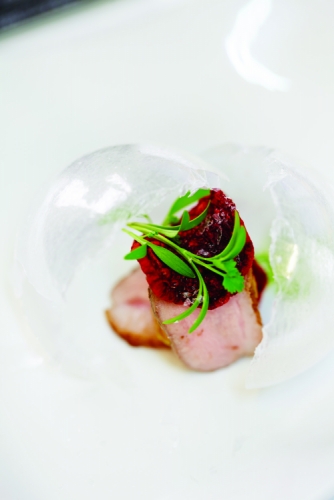 Food : Main Courses
CEYLON CINNAMON SPICED TEA SMOKED DUCK BREAST WITH JAVANESE LONG PEPPER AND BEETROOT CRISP
IngredientsCeylon Cinnamon Spiced Tea Smoked Duck Breast
1 duck breast
1 Java pepper
100g Dilmah Ceylon Cinnamon Spiced Tea, loose leaf
Beetroot Crisps
2 large orange baby beetroots
2 large purple baby beetroots
Star Anise Spiced Sugar Dome
1000g isomalt
100ml water
5 star anises
MethodCeylon Cinnamon Spiced Tea Smoked Duck Breast
Microplane Java pepper over duck skin
Score and season skin then place in a frying pan on medium heat, skin side down. Render out the fat. Do not flip onto the other side.
Remove from heat. Place in perforated tray.
In another tray, place the tea leaves. Place perforated tray on top. Then place on a medium heat.
Allow to cook until the leaves start to smoke, remove from heat and cover. Cook for 5 minutes.
Then remove duck breast from perforated tray. Allow to cool in fridge/cool room.
Beetroot Crisps
Peel and slice beetroots thinly.
Blanche in hot water for 1 minute and refresh in iced water.
Place in tray and dehydrate in the oven at 80C.
Star Anise Spiced Sugar Dome
Bring isomalt, water and star anise to 160C. Do not allow to caramelise.
Pour sugar mix through a strainer onto a silpat matt. Allow to cool slightly.
Fold edges into centre continuously until you can touch the sugar. Pull sugar until pearlescent.
Attach a small amount to a sugar blowing pump. Blow into a dome and cut from pump. Allow to cool.
The range of Dilmah Tea used
Dilmah t-Series Designer Gourmet Teas
The variety of Dilmah Tea used in the recipe
t-Series Ceylon Cinnamon Spice Tea
Created by : Bree Stafford.