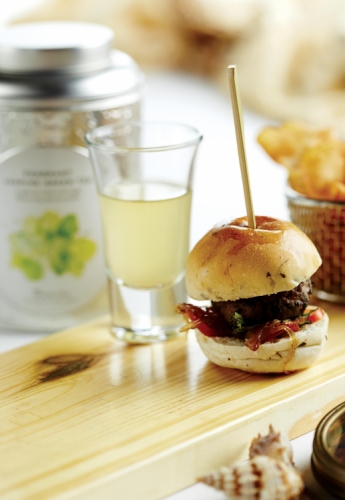 Food : Main Courses
CELEBRATION OF AMERICA
Ingredients
Fragrant Green Tea &
Jasmine Tea Bun
• 250g Flour
• 7.5g Yeast
• 5g Sugar
• 5g Salt
• 3.75g Bread Improver
• 35g Egg, Beaten
• 40g Tea Leaves (Fragrant Green Tea and
Jasmine)
• 5g Sesame Seeds
Beef Burger Patty &
Caramelised Onion
• 450g Minced Beef
• 30g Carrot
• 125g Onion
• 15g Celery
• 10g Rosemary
• 50g Fragrant Green Tea And Jasmine
• 10g Mustard
• 5g Salt
• 5g Pepper
• 10ml Scotch
• 1 Egg Yolk
• 2 Egg Whites (with shell)
• 30g Bread Crumbs
• 10ml Olive Oil
• 35g Sugar
• 5 Cherry Tomatoes
• 50g Rocket Lettuce
• Potatoes
Method
Fragrant Green Tea &

Jasmine Tea Bun
Brew the tea for one minute, strain and set the

leaves aside.

Mix in all the ingredients into a smooth dough

with the tea leaves.

Roll into 18g balls and let it prove for an hour.

Sprinkle top with some sesame seeds.

Bake in a pre-heated oven at 210°C for 8 – 10

minutes or until desired-colour on top is

achieved.
Beef Burger Patty &
Caramelised Onion
For the consommé, mix the minced beef,

mirepoix, egg white, rosemary and five grams

of Fragrant Green Tea with Jasmine.

Season the minced beef and keep it in a pot of

water. Simmer until all the flavours from the

meat are extracted (at least for five hours).

Slice the onion in half and grill and place it

over the meat in the stock pot after three hours

of simmering.

Add remaining egg white with the shell to

clear the consommé.

Sauté rosemary, carrot, celery and onion and

let it cool.

Mix all the ingredients with the minced beef.

Season and shape into desired portions.

Grill on both sides and cook it in the oven to

desired doneness.

Sauté onion, add sugar and caramelise with

continuous stirring to avoid burning.

For the chips, slice the potatoes and soak in

brewed tea for five hours. Deep fry until golden

brown.
The range of Dilmah Tea used
The variety of Dilmah Tea used in the recipe
Exceptional Fragrant Jasmine Green tea
Created by : Alpesh Dias