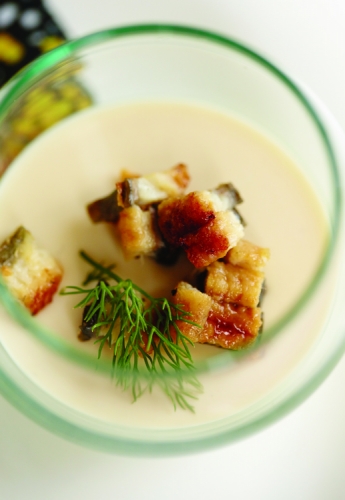 Food : Main Courses
CAULIFLOWER AND EARL GREY TEA PANNA COTTA
Ingredients
350g cauliflower

500ml milk

500ml whipping cream

100g onions

50g butter

21g gelatin

10g Dilmah Earl Grey Tea

Salt
Method
Sauté cauliflower with butter and onions.

Add whipping cream and season.

Blend until smooth and strain before setting aside.

Bring milk to a boil and remove from heat. Add Dilmah Earl Grey Tea and let steep for approximately 7 minutes.

Strain out loose tea leaves.

Add gelatin. Stir till it's melted and fully incorporated to the tea.

Mix cauliflower purée and milk mixture together.

Pour into desired mould or serving container.

Chill for 8 hours or until set.
The range of Dilmah Tea used
The variety of Dilmah Tea used in the recipe
Created by : Channarong Hongsatan