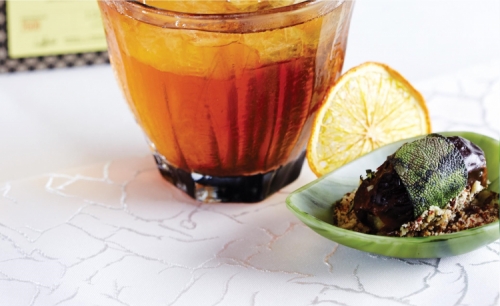 Food : Main Courses
CASHEL BLUE CHEESE STUFFED MEDJOOL DATES
Ingredients
• 4 Large Medjool Dates, stones removed
• 50g Cashel Blue Cheese, creamed until soft
• 4 Sage leaves
• 30g Ghee
• 2 slices off a Brioche Loaf, dried and crumbed
• 2 rashers Veal Bacon, roasted until crisp
• 5g Fresh Zataar, picked
Method
With a plain tube (1cm), pipe the cheese onto 

a silpat mat and freeze. Cut the cheese into 

2.5cm pieces.

Place the cheese inside the medjool dates, wrap 

with sage and secure with a cocktail stick.

Heat the ghee in a suitable pan and sauté the 

dates for 2-3 minutes.

Combine the brioche crumbs, crushed veal 

bacon and zataar together.

To serve, place the hot dates on-top of the 

crumb mixture and serve immediately.
Created by : Max Rauch