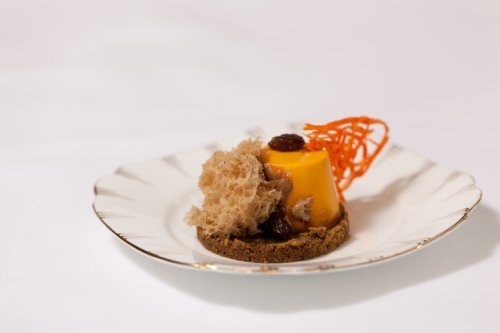 Food : Appetisers
Carrot Cake
Ingredients
Carrot panna
300g carrot juice

200g cream

40g gelatine

Pinch of salt

0.7g xanthan gum

1g agar
300g flour

165g walnuts

140g icing sugar

180g butter

110g butter

20g tea
160g ground almonds

140g sugar

40g flour

6 units eggs

13g five-spice mix

200g egg whites
250g raisin

40g sugar

50g rum

35g water
50g carrot

100g sugar

100g water
MethodCarrot panna
Boil juice and cream.

Add gelatine, sugar and xanthan.

Set in moulds.
Whip icing sugar and 180g butter very well.

Add tea, flour and walnuts and bake.

Cool and blend.

Add 110g butter and bake again.
All in the thermo-mix, pass.

Charge with three nitrous oxide (N2O) chargers.

Rest and bake.
Vac pack 75°c for 40 minutes
Boil, drain.

Put in to dry overnight.
Created by : Chris Webb