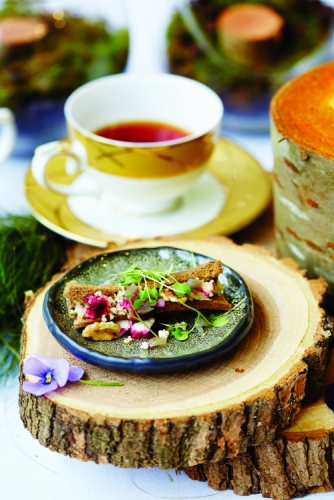 Food : Main Courses
BROWN GARDEN POT
IngredientsBrown Bread Pot
Couscous
100g couscous
120ml hot water
Beetroot Purée
150g beetroot
20g onion
Water
Baked Beetroot
50g beetroot, diced
50g Persian feta cheese
30g roasted walnut
30g roasted shallot
Baby rocket leaves
MethodBrown Bread Pot
Flatten 4 pieces of brown bread with a rolling pin. And then roll it with foil.
Bake at 175C for 8 minutes.
Unfold foil and brush it with butter and bake again for 5 minutes.
Couscous
Cook couscous in hot water until well cooked.
Beetroot Purée
Cook beetroot and onion in boiling water until soft.
When cooked through blend it to a purée.
Baked Beetroot
Roast the diced beetroots at 165C for 15 minutes.
Mix with Persian feta cheese, roasted walnut, roasted shallots and baby rocket.
Created by : Jagdev (JD) Singh