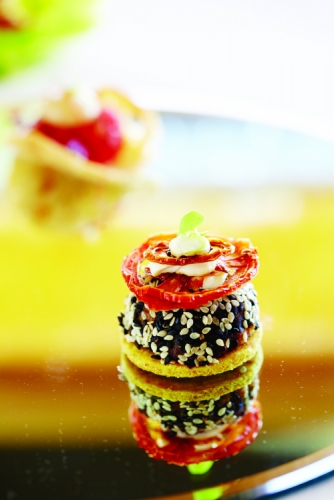 Food : Main Courses
BRINJAL MOJU
IngredientsFennel / Turmeric Sable
250g flour
125g butter (cold)
3g ground fennel
5g ground turmeric
50g egg
Cocoa butter atomised
Brinjal Moju
30ml canola oil
1 tsp cumin seeds
1 tsp brown mustard seeds
1 aubergine, diced
2 tomatoes
½ tsp turmeric ground
1 tbsp coriander seeds, ground
2 tbsp brown sugar
50ml white vinegar
Moghrabieh CousCous
Tomato Crisps
3 tomatoes
1:1 sugar syrup
Strained Yoghurt
Assembly
Baby basil
Black and white sesame seeds, toasted
Pomegranate molasses
Eggplant, thinly sliced and grilled
MethodBrinjal Moju
Heat oil with cumin and mustard seeds for 2-3 minutes till they start popping.
Toss tomato and aubergine in this to coat with oil and seeds.
Add remaining spices, brown sugar and vinegar and bring to a simmer until thick.
Moghrabieh CousCous
Place in salted boiling water and cook till tender.
Tomato Crisps
Place in muslin cloth over a container and leave covered in fridge to drain for at least 12 hours.
Assembly
Line a flexipan of 4cm half spheres with grilled eggplant leaving some to overhang.
Fill with moju, and top with some couscous and fold overhanging eggplant to wrap around what will be the base.
Leave in fridge with a tray on top to press domes.
Remove domes and place onto sable.
Brush on pomegranate molasses and sprinkle sesame seeds to coat.
Pipe a small dollop on top and place a tomato crisp followed by more yoghurt and another smaller crisp.
Pipe some more yoghurt on the very top and place a couple of sprigs of baby basil on top.
Created by : Sean D'Almada-Remedios