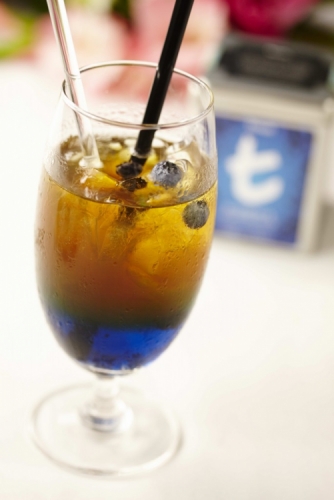 Drink : Mocktails/Iced Tea
BLUE PARADISE
Ingredients
120ml Dilmah Blueberry and Pomegranate Tea
45ml Blue Grenadine syrup
45ml lemon juice
30ml sugar syrup
Ice cubes
Blueberries for garnish
Lemon for garnish
Method
Pour the Blue Grenadine, lemon juice and sugar syrup into a shaker with some ice cubes and shake well.
Once chilled, pour into a hurricane glass with ice and pour until the glass is half full.
Take the chilled Blueberry and Pomegranate tea and fill the remaining half of the glass.
Garnish with blueberries and a slice of lemon.
The range of Dilmah Tea used
Dilmah t-Series Designer Gourmet Teas
The variety of Dilmah Tea used in the recipe
t-Series Blueberry & Pomegranate
Created by : Reinolf Moessl