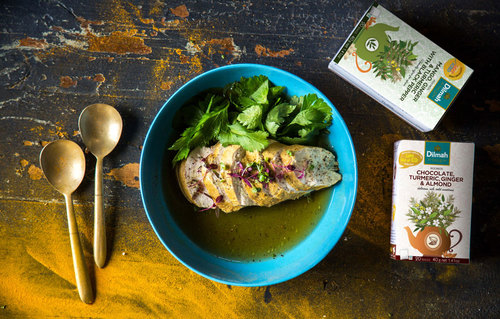 Food : Savory
Black Pepper and Turmeric Poached Chicken Breast Red Rooibos
IngredientsBlack Pepper and Turmeric Poached Chicken Breast Green Rooibos, Mango, Ginger, Turmeric and Black Pepper Consommé
1 free-range chicken, around 1.25kg, quartered
2 kaffir lime leaves
1 teaspoon salt & more to taste
1 teaspoon black peppercorns
50g dry mango
5 shallots, peeled and halved
3 cloves garlic, peeled
1 1/2 teaspoons fresh ground turmeric
2 tablespoons finely minced ginger
8 Red Rooibos, mango, ginger, turmeric and black pepper tea bags
3 tablespoons peanut oil
2 handfuls of chopped greens such as celery leaves, mint, Thai basil and coriander leaves
2 shallots, thinly sliced and fried in vegetable oil until brown (optional)
Quartered limes
Chili paste (sambal) for serving
Method
Bone out the chicken reserving the bones for stock
Place the bones with the lime leaves, salt and enough water to cover them and bring to the boil cook for 30 minutes simmering, skim occasionally to get a clear broth
Strain and place back on the stove
Combine peppercorns, in a small mortar and pestle. Pulse until ground. Add halved shallots, garlic, turmeric and ginger and pulse to a thick paste. (Add a little water if needed.)
Heat peanut oil in a medium saucepan over high heat. When very hot, add spice paste and cook, stirring until paste is cooked and beginning to separate from the oil, about 5 minutes.
Add cooked spice paste and chicken breasts and legs to stock. Bring to a simmer and cook 15 minutes. Or till the chicken is cooked remove from stock and remove the skin of the chicken
Strain the stock and place it back on the stove, add the Red Rooibos, mango, ginger, turmeric and black pepper tea bags and steep for 4 minutes, remove the tea bags
Turn off heat under soup and stir in lime juice. Taste for salt.
To serve, in a bowl place the chicken breast, poach an egg and place it in the bowl, curl the noodles onto a fork to give a tight bundle and place some chopped Macadamias on the edge of the bowl
Serve with a lime cheek and sambal at the table.
The range of Dilmah Tea used
The variety of Dilmah Tea used in the recipe
Red Rooibos with Mango Ginger and Turmeric with Black Pepper