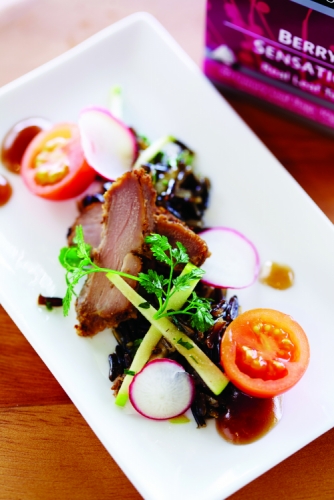 Food : Main Courses
BERRY SENSATION PORK FILLET WITH WILD RICE SALAD
IngredientsBerry Pork
1kg free range pork fillets
4 tbsp brown sugar
2 Dilmah Berry Sensation tea bags
4 tbsp rice wine
4 scallions/spring onions
2 tbsp grated ginger
4 tsp salt
3 tsp Szechuan peppercorns crushed
3 drops of sesame oil
Wild Rice Salad
300g wild rice
6 cherry tomatoes
1 small red radish
MethodBerry Pork 
Combine wine, salt, brown sugar, and peppercorns in a large bowl.
Cut scallions into 2 inch long pieces and flatten with the side of a cleaver. Add scallions and ginger root to bowl.
Place pork in bowl and rub the mixture until the fillet is well coated.
Let marinate in the refrigerator overnight.
Remove pork from marinade and roast for 15 minutes.
Wild Rice Salad
Boil wild rice in water until cooked.
Halve tomatoes and thinly slice radish.
Serve pork on top of the rice salad
Created by : Derek Lai