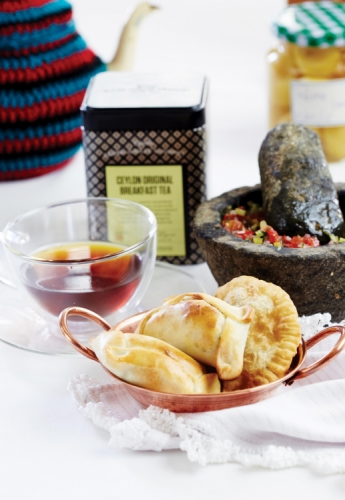 Food : Main Courses
BAKED BEEF EMPANADAS
Ingredients
• 200g Ground Beef
• 200g Onions, diced
• 1 tbsp. Ground Cumin
• ½ tbsp. Dried Oregano
• ½ tbsp. Merken
• ½ tbsp. Salt
• 1 tbsp. Vegetable Oil
• 3 Hard-boiled Eggs, sliced
• 15 Black Olives
• 20 Seedless Raisins
• 250g All-purpose Flour.
• 42g Lard.
• 5g Salt.
• 125cc Water.
Methodfilling
In a skillet, heat oil over medium heat and 

sauté the onion for a few minutes.

Add other ingredients, except eggs, and stir 

well until beef is cooked through.

Add sliced eggs and stir once again and set 

aside for a few minutes.
In a bowl mix the flour with warm water, salt 

and lard. Stir and knead until all ingredients 

are mixed well.

Make the dough into a ball and wrap in plastic 

wrap. Let stand in refrigerator for 1 hour.

Transfer dough to floured flat surface and 

stretch it with the roller until 5mm thick

Cut the dough into circles (you can use a 

saucer).

Fill in the circles of dough with one or two 

tablespoons of Pino (filling). Brush edge of 

dough with beaten egg and close by pressing 

with your fingers.

Bake for 10 minutes.
Created by : Cristian Gomez