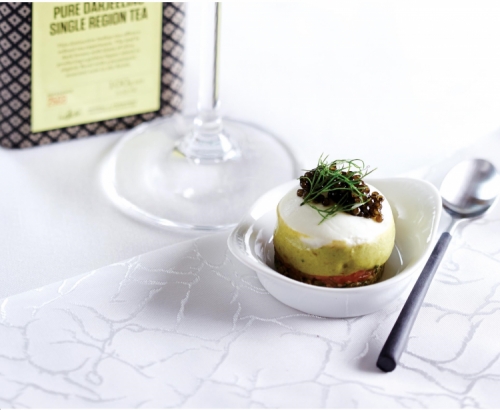 Food : Main Courses
AVOCADO CHEESECAKE WITH A HOT AND COLD DUO OF SMOKED SALMON
Ingredients
100g Cream Cheese, softened
Avocado, ripe
1 Lime, zest and juice
1 sheet Gelatin, soaked in cold water
200ml Double Cream
40g Home Smoked Salmon (cold smoked)
40g Salmon (Hot smoked)
30g Butter, melted
5g Dill, chopped
3 Oat Biscuits, crushed
1 Lemon, zest only
Caviar and Dill, to decorate
Method
In a large mixing bowl, beat cream cheese and avocado.
In another bowl, whisk the double cream until soft peaks are formed.
Combine the cheese mixture, cream and the zest and juice of a lime and the lemon zest.
Fold in the melted gelatin. Season.
Add the melted butter to the biscuits and chopped dill.
Place biscuit mixture into 'form' by lining the base of a mould.
Line this with the cold smoked salmon, pipe in cheese-cake mixture, place hot smoked salmon on top and fill with remaining mixture. Level off.
Place in refrigerator and allow to set.
To serve, take off mould and place onto a serving platter. Garnish with caviar and dill.
Created by : Max Rauch