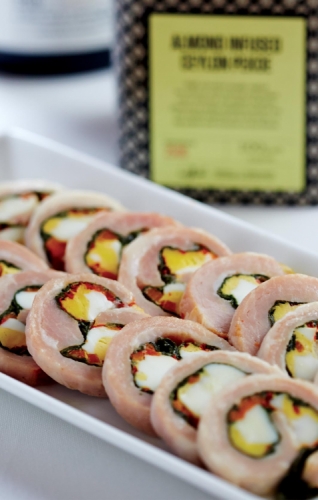 Food : Main Courses
ALMOND INFUSED CEYLON PEKOE HAM
Ingredients
500g Pork Leg Ham
2g Cured Salt (per kilo)
20g Regular Salt (per kilo)
4g Almond Infused Ceylon Pekoe (per kilo)
1 Syringe
200cc Mineral water (per kilo)
Ingredients for Glaze
100g Sugar
5g Almond Infused Ceylon Pekoe
Method
Weigh the pork piece. Place it in a large container.
Infuse the tea, dissolve the cured salt and regular salt in water and inject the ham.
Cook the pork to an internal temperature of 75 C° - the combination of the chemical brine and the cooking will kill off bacteria and make a ham.
Glaze
Make a caramel and add the tea, already infused.
Use a basting brush or a spoon, and glaze the ham completely.
Bake until the glaze begins to turn brown and shiny. This indicates that the glaze has caramelised and the flavour has taken on a nutty, caramel flavour.
The range of Dilmah Tea used
Dilmah Silver Jubilee Gourmet
The variety of Dilmah Tea used in the recipe
Silver Jubilee Almond Infused Ceylon Pekoe
Created by : Cristian Gomez