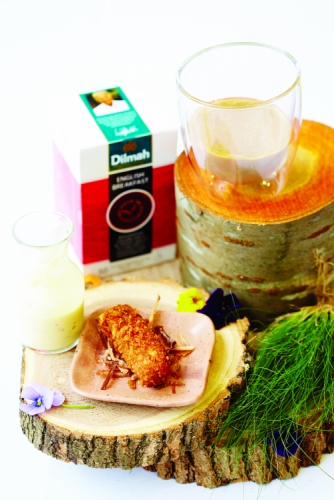 Drink : Chai
ALMOND CHAI
Ingredients
220ml fresh spring water
2 tea bags Dilmah English Breakfast Tea
2 tsp white sugar
5 pods green cardamom
5g freshly grated ginger
50ml fresh milk
7 skinless almonds (chopped)
½ tsp poppy seeds
1 tbsp ghee (clarified butter)
Method
Boil water in a pot to 100C.
Add tea, cardamom, sugar and ginger together in the pot with the water and bring to a boil.
Then add milk.
Bring to a boil again after adding fresh milk.
While waiting for the tea to boil, in a pan sauté the poppy seeds and almond in the ghee.
Then strain the tea into a jug and add the sautéed poppy seeds and almond.
Stir and serve tea in double walled glass.
The range of Dilmah Tea used
Dilmah Gourmet Tea Selection
The variety of Dilmah Tea used in the recipe
Created by : Jagdev (JD) Singh