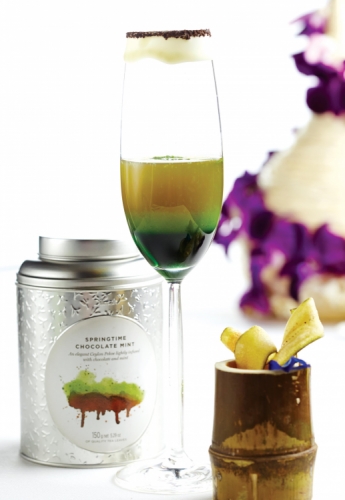 Drink : Mocktails/Iced Tea
AFTER 3
Ingredients
• 90ml Brewed Springtime Chocolate Mint Tea
• 15ml Mint Syrup
• 15ml Chocolate Syrup
• 15ml Lime Juice
• 3pc Fresh Mint Leaves
• 100g White Chocolate, melted
• 50g Chocolate Crumble
Method
To serve, first dip the rim of the glass into 

white chocolate coat with chocolate crumble 

and set aside.

Then, pour the lime juice into the bottom of the 

glass.

Using a cocktail spoon, add the chocolate syrup 

and then the mint syrup creating layers in the 

glass.

Finally, place the brewed tea and fresh mint 

into a shaker with some cubed ice and shake 

well.

Once chilled, strain and pour into the glass.
The range of Dilmah Tea used
Vivid Tea Selection by Dilmah
The variety of Dilmah Tea used in the recipe
Vivid Springtime Chocolate Mint
Created by : Reinolf Moessl